Glyne: Rotary Swaging, Flaring and End Forming Specialists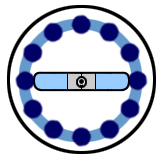 Glyne Manufacturing is an AS9100D certified company.
Glyne Manufacturing Co., Inc. is a small, specialty, metal working shop whose core business is tube swaging and end forming. We also have the ability to machine swaged and unswaged tubing on our CNC lathes and 4 axis vertical machining centers.
We are thoroughly experienced in system 22 thread gaging per AS8879, and approximately 90% of our work is for the commercial and military aircraft industry.
We work with a core group of ISO and Nadcap certified special processors which enables us to provide completely finished parts ready for assembly.
---
The shop is now open Monday through Thursday, 6:30 am to 5:00 pm.
Glyne Manufacturing Co., Inc. has remained open through the pandemic, continuing to meet our customers' requirements. All of us working here are vaccinated, and while there is currently no mandatory masking requirement, employees are free to wear them.
Likewise, visitors are under no obligation to wear masks, but are free to do so.
---
Latest news from Glyne Manufacturing Co., Inc.:
• May 24, 2023 - The shop is now open Monday through Thursday, 6:30 am to 5:00 pm.
• DECEMBER 22, 2022 - 2023 will see some significant changes in leadership at Glyne Manufacturing... Read More
• APRIL 15, 2019 - Glyne Manufacturing has achieved Supplier Self-Inspection status for Northrop Grumman
• JANUARY 2, 2019 - Glyne Manufacturing's complete information technology system is now compliant with NIST SP 800-171.... Read More